What's up with writing a book?

I guess the short answer is because I wanted to. I did not take writing classes in school, in fact my 12th grade English teacher at Westhampton Beach High School Mr. Johnston told me that he expected me to fail his class. Truth be told I expected too as well. But when the NY Regents exam was over, to his surprise and mine, I got one of the highest scores in the class. I guess you just never can tell what one can do until the starting gun goes off. That's sort of been my life. I seem to do well only with the pressure of the clock ticking and then I spring into action and get 'er done.
So about 4 years ago I got a call from one Tony Moss who identified himself as a sports journalist and writer. He was from Baltimore where I had my recording studio in the 1970's and he wanted to do an article on me and the story behind the Blue Seas Studio. Over the years I had been interviewed several times about my life in the Spoonful both before and after the band first burst onto the scene in 1965 and even a few about the studio mostly during its active heyday in Baltimore's Inner Harbor. None of them were bad experiences and the stories had their run and that was usually it. But Tony really struck me as someone who really had more than just passing interest or just doing an assignment. He was passionate about music and especially music history.
Baltimore in the 1970's was a very fertile creative ground. It had always been the home of many fine world renowned artists and institutions such as the Walters Art Museum and the Peabody Institute and the number of world class musicians that came out of Charm City are way too numerous to name although Frank Zappa and Mama Cass Elliot come to mind as contemporaries of mine. John Waters was just beginning to establish himself as a first rate film maker which would lead in my opinion to Barry Levinson's "Diner" shot in Baltimore in the early 1980's and then the game changing TV shows "Homicide Life on the Streets" and "The Wire". But when I arrived there in 1973 fresh from sailing around the Caribbean, despite all the tremendous musical talent I was soon to hear, there did not seem to be as vibrant a music scene as would be expected with all of that talent. I soon dove right in and The Blue Seas Studios became a keystone in the musical rebirth of Baltimore. Tony had my ear and his interview was even better and when it was done the subsequent article for Baltimore Magazine told the story of Blue Seas better than it had ever been told. I was hooked.
At the time I met Tony I had been trying to build a new recording studio in coastal North Carolina but with the economy in a tailspin I was unable to obtain the financing to complete it. And then it hit me like a train. Up until then I had not given writing a book about my life's stories much thought because I did not think I had the necessary skills to do the good job it deserved. Once the studio piece came out I knew without a doubt that Tony did. I immediately asked him if he would be interested and despite the fact that he had a very important editing job with CBS Sports.com and family to provide for...he agreed. I was living in St. Augustine, Florida at the time and with serendipity as our partners his job was relocated to S Florida and so the race was on. Now nearly 4 years later the book is done and the whole story told... Steve Boone/LovinSpoonful/Blue Seas/***+++/LovinSpoonful/R&R Hall of Fame/still touring... and now you know the rest of the story. But really the rest of the story is several books in one. My life in the Lovin' Spoonful is a lifetime in itself. My life in the Caribbean borders on disbelief but it all happened and it's all in the book.
" Hotter Than A Match Head" 'Life On The Run With The Lovin' Spoonful'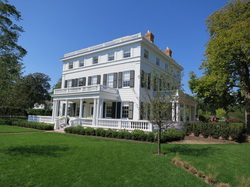 This picture was taken in the summer of 2012 in Bridgehampton, L.I. New York and was formerly known as The Bulls Head Inn. It also was the place where the Lovin' Spoonful rehearsed for the very first gig. To find out how this happened and who was in the band then, you'll have to wait until August 2014 when my book Hotter Than A Match Head: Life on the Run with The Lovin' Spoonful comes out on ECW Press. It is truly hotter than what you know about Steve Boone the Spoonful's bass player and author of this book along with his bud Tony Moss. This web site is going to become information central and will not only have pictures and stories from the book but some original new music that has been waiting to get published and released while the book was being written. So stay tuned and check back often.
---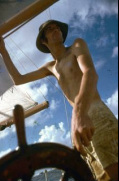 That's me in 1970 on board my sailboat Cygnus in the eastern Caribbean. Just three short years since touring with the Lovin' Spoonful in support of our #1 hit Summer in the City, it is obvious that I was a bean pole in search of some good soil to put my roots down into and grow. From December 1964 to April 1970 I ate, breathed and slept the Lovin' Spoonful along with a mouthwash of the record business. By May 1970 I left to sail off to wherever the wind took me, planning to never return but as with many such plans and in the words of Bobby Burns they "Gang aft agley"[oft go awry] in his poem to a mouse! Now 44 years later I have grown roots and settled in to what I think is a nice life. My book which will be released in August of 2014 is called Hotter Than A Match Head: Life On The Run with The Lovin' Spoonful. So from the top of the world to the bottom of the ocean come along on my journey. There will be menu buttons to guide to the various pages in this site and a vigorous blog to discuss what did and did not get into the book..Enjoy!
---